Features: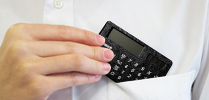 Compact Size
Bring along the portable and lightweight calculator in all occasions.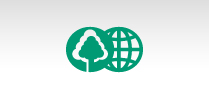 Eco-friendly
In pursuance of the commitment to reduce avoidable energy waste, Canon is devoted in manufacturing our green calculators to the highest standards. Some parts of our green calculators are made from recycled Canon product materials. We're delighted in ensuring sustainability and preserving the environment.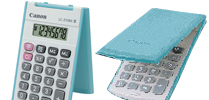 360° Rotating Upward Folding Hard Cover
Hard cover is included to protect your daily companion from dirt and scratches.
Display
Display Type
TN-Type
Digit Display
8-Digit
Display Screen Size
35.21 x 11.44mm
Functionality
Constant Calculation
Yes
Business Calculation
N/A
Tax Calculation
N/A
Memory
Yes (RM, CM, M+, M-)
Grand Total
N/A
Sign Change
N/A
Shift Key / Backspace Key
N/A
Automatic Power Off
Yes (7mins.)
General
Power Source
Battery
Dimensions (L x W x H)
97 x 60 x 11mm
Weight
41g
Other Features
1. 360 degree rotation upward HardCover
2. Some parts are manufactured from recycle Canon product material
Click here for more range of books, past papers, calculators and stationery products……